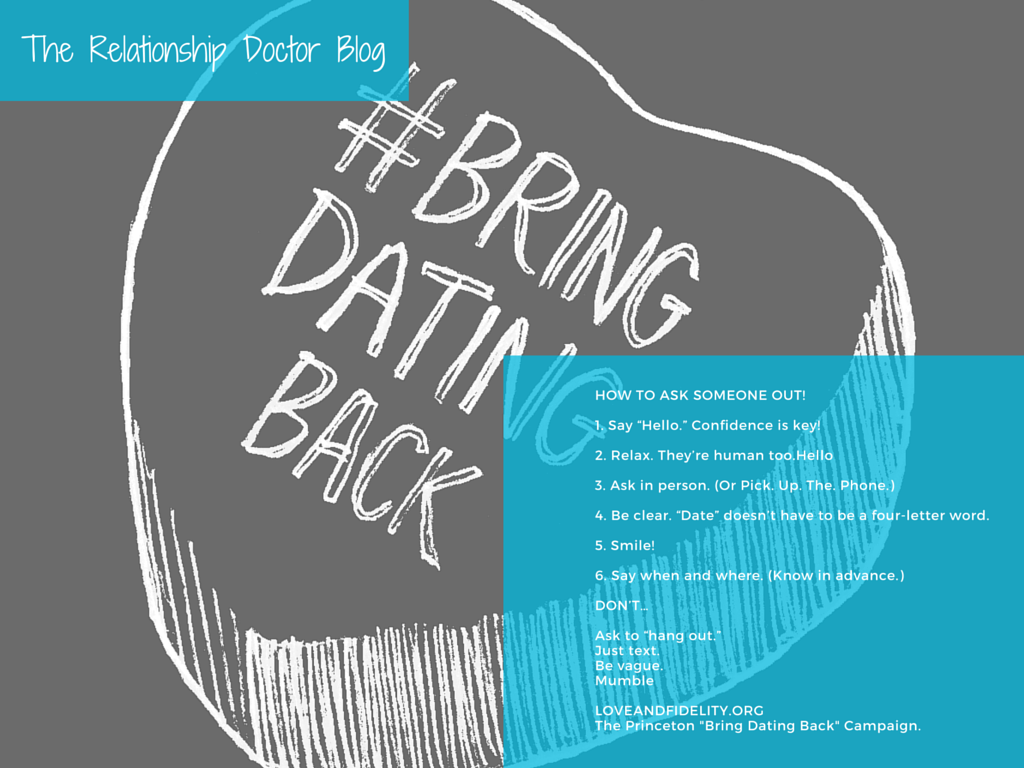 Let's face it….the "Hook-Up" has robbed the cultural psyche of the great first date memory!    I love the #BringDatingBack Campaign that many of the top campuses in our country promoted throughout the month of February.     Why?  Because learning to date well is, at its essence, learning to be present with another human, learning to be a blessing to them, learning to receive the blessing of whoever they are.    Dating is one of the important human activities that teaches us about tuning into different energies in God's amazing universe, making meaningful and unexpected memories, expanding ourselves beyond the familiar!  None of which we can learn from pulling up the same screens on our cell phones over and over (and OVER!) again.
One essential key to enjoying the dating years, and getting over those "Hook-Up" culture fears that are so common today, is making the shift AWAY from objectifying the other person, away from seeing them as a means to alleviate our loneliness, head off being single at 40, or anything thing else that keeps us up at night.   Those things are OUR responsibility, they are part of HAVING A LIFE.    No one can give that to us, they can only join in that life as we are truly living it.     Experiencing that secure ground of a full and pleasurable life in the Lord, we can make the shift away from fearing rejection and over to trusting God's redirection if someone doesn't take us up on a second date.  
We can know God has something important for us to learn right here, right now, in this moment, with this person….AND that He has something mind-blowingly perfect for us beyond any given date!   
Check out the #BringDatingBack Pro Tips below:
Dating 101: ProTip Edition  
From The Love and Fidelity Network "Bring Dating Back Campaign"
How To Ask Someone Out
En Español: Consejos para una cita.
1. Say "Hello." Confidence is key!
2. Relax. They're human too.
3. Ask in person. (Or Pick. Up. The. Phone.)
4. Be clear. "Date" doesn't have to be a four-letter word.
5. Smile!
6. Say when and where. (Know in advance.)
DON'T…

Ask to "hang out."
Just text.
Be vague.
Mumble.
How to Treat Your Date Right
7. Be Punctual.
8. Put the phone away!
9. Ask questions. Be interested, not nosey.
10. Listen!
11. Pay a genuine compliment.
12. Be considerate. Courtesy is not chauvinistic.
13. Offer to pay. Do pay if you did the inviting.
14. Walk next to your date.
DON'T…
Make presumptions.
Expect to spend the night.
Be creepy.
How to Win at a First Date
15. Be spontaneous. (Planning spontaneity is okay.)
16. Remember to laugh (but not too loudly).
17. Keep it short and sweet.
18. Leave your date wanting more.
19. Keep expectations realistic.
20. Remember it's okay to seem interested.
21. It's just a date. Have fun.
DON'T…
Make your date do all the work.
Feelings gush.
Steal the blue french horn.
How to Pick a Great First Date Spot
22. Keep it casual.
23. Think fro yo, not filet mignon.
24. Go somewhere you can talk.
25. Pick a comfortable environment…
26. …for both of you.
27. Go off campus.
28. Skip the usual hangouts.
DON'T…
Break the bank.
Go someplace isolated. (Just. Too. Awkward.)
Try to lasso the moon (yet!).