TYPE ONE (Reformer)
WISDOM on
DOUGHNUTS,
DIRTY SOCKS,
& THE DAILY DOUBLE!
Turn Those Relationship-Building Behaviors Into Habits, and Leave Your Willpower intact to Keep Your True Value System Awake During those Unexpected Stressful Moments in Couple Life.    
We've all been there!   You avoid that doughnut that's been calling to you most of the afternoon from the office coffee room, because you just started a new fitness program.    Or you decided to keep that first Saturday morning commitment to getting up an hour early to do some journaling.    Then, you are faced with a decision regarding good behavior you weren't expecting today:  He left his dirty socks in the hallway again!   She wants to talk about that bathroom fixture that needs replacing during the game!  ..AND YOU START YELLING.   You've made a commitment to breathe and think before reacting in your relationship with your partner.   BUT the doughnut or the early wakeup time seemed to have used up your willpower allotment for that day.   While there is some current scientific debate about exactly what creates that phenomenon, there's a lot of sound techniques that have been proven to address this WILLPOWER GAP in couple life.
What the research says about
this thing we call
"THE WILLPOWER GAP"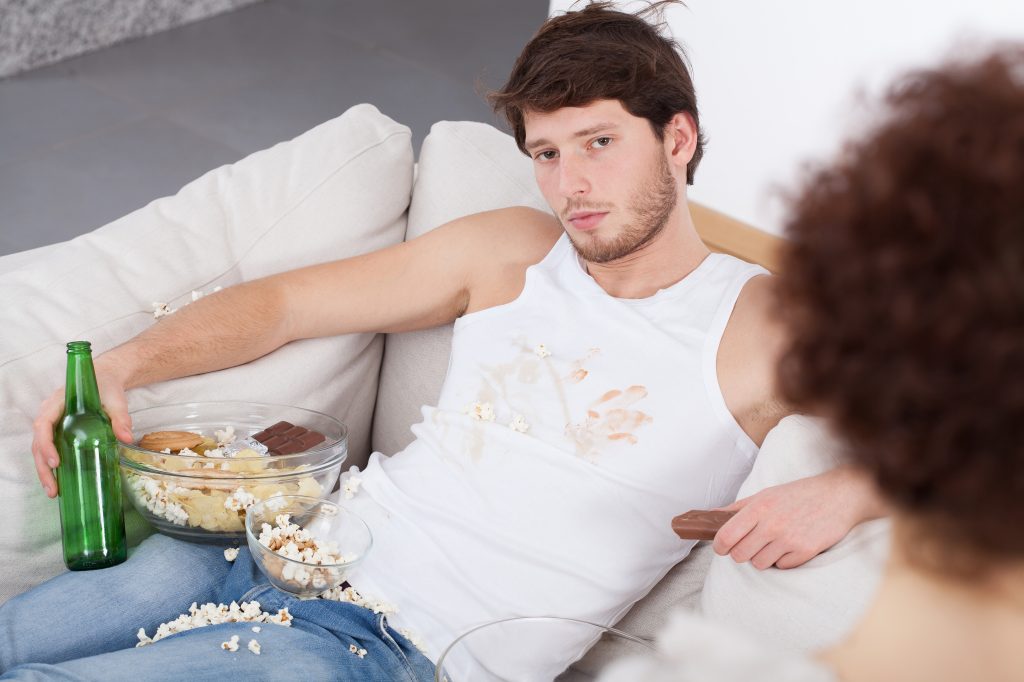 Following is great summary of some of the research on the willpower gap and human behavior from Leslie Baehr, Los Angeles Times:
'The basic idea is that if you resist a really delicious piece of chocolate cake at a party, and then right after that you drive home and your roommate left his socks on the floor, you're more likely to snap and yell at your roommate than you would have been if that cake had never been offered to you,' said Jessica Alquist, assistant professor of psychology at Texas Tech University, whose research interests include self-control and health.
…Keep in mind that self-control is on duty more often than we realize and that many of the tasks that zap willpower fly under the radar. Researchers estimate that the average adult spends about three hours every day resisting desires and half an hour giving in to ones previously resisted. Choosing lunch, making business decisions, moderating emotions and staying on task — all tax willpower, so try to make important decisions when you're fresh. Just picking up lunch on your way to work, rather than once your willpower is exhausted in the afternoon, can lead to healthier choices.  
'One of the best ways to manage that self-control resource is to set yourself up so that you don't have to use it," Alquist said. Research suggests that those who have good self-control actually aren't great at resisting desires. Instead, they use their willpower for "playing offense,' according to Baumeister, setting up their lives to encourage good behavior (like making sure they have a gym buddy) and avoid potential land mines (like staying away from the doughnut shop).
Turning those good behaviors into habits is even better. Habits leave willpower intact by putting desirable behaviors on autopilot. Plus, when our willpower is kaput, we are more likely to fall back on habits, healthy or otherwise.
(LESLIE BAEHR, How to improve willpower? Feed it. – Los Angeles Times)
RELATIONSHIP

BUILDER:

An Exercise that Will Create One of Those Relationship-Building Habits

that Leaves You Both with a Surplus of Willpower!

Start with this easy, fun exercise to create a powerful set of willpower-saving, relationship-enhancing new habits?   CLICK HERE and ENTER THE PASSWORD "yourdaily2" & get the DAILY DOUBLE EXERCISE for Couples!
THE
COUPLES'
ENNEAGRAM:
The Riso-Hudson Insight Approach of Catching Yourself in the Act 
Requires Taking Care of Your Willpower Stores!
The Couples' Institute Daily Double is a Good Habit that Our Inner ONE Can Really Latch Onto!   In addition to creating a supportive environment of great relational habits with each other, it is important to fortify that atmosphere of couple growth with your own personality development practices, that themselves can turn into helpful, willpower-saving habits.    The Riso-Hudson Insight Approach to Enneagram Type development has a foundational habit-building activity of catching yourself in the act.   Simply unpacked, that means noticing your personality's wake-up call that indicates you are getting less conscious about what you say and do with your partner, slipping into your particular Enneagram style autopilot!   Every time you notice that you are stressed and about to (or recently did) slip into unconscious, unhelpful behaviors (criticising, losing yourself & your boundaries, faking it or using charm to deceive, over dramatizing, isolating, getting overly dependent on something…or someone, escapism, controlling/objectifying behaviors, numbing out, etc.):
 BREATHE!
NOTICE (WITHOUT JUDGMENT), and realize at that moment you have (or had) a choice.
AND if you want to really add some power to this practice, DO what we call at The Couples' Institute AN INSTANT REPLAY!   Imagine the lead up to this moment again, and what it might be like to choose to respond in a healthy way to your partner!
That's all it takes.   Just keep practicing that awareness-expanding insight, and you will begin to build one of the most important habits in your relational growth journey!
SPIRIT

&

SCIENCE

SPEAK:

Waking Up is a Life-long Journey,

Powered by God's Spirit and Grace!

Getting in touch with this kind of reality throughout our relational day, means getting in touch with God's reality….the only reality to reach for if we want to be anything beyond delusional in our decision making patterns in this life.  Fortunately God's Spirit and His Grace are readily available, all we have to do is seek them.  Anyone who tells you that is not true, is probably holding back from an all-out open-minded search.

The New Testament church discussed this often.    After Jesus physically left their lives, they often talked about, wrote about, told stories about the only real path to this kind of remembering what matters, especially while in community.    Their writings about this, our shared struggle, echo what many ancient Enneagram scholars have concluded about this work:  any real work on our Type's autopilot issues MEANS basing that journey in genuine spiritual practice.

If any of you lacks wisdom, you should ask God, who gives generously to all without finding fault, and it will be given to you.  (James 1:5New International Version (NIV))

…walk and live [habitually] in the [Holy] Spirit [responsive to and controlled and guided by the Spirit]; then you will certainly not gratify the cravings and desires of the flesh (of human nature without God). – Galatians 5:16
Until Next Time, Builders,
That's You One, Willpower Gap Zero!   

---
---
---
---
---
---
---
---
---
---
---
---