The Benefits of Working with Ronna
Compared to Working with Other "Couples" Counselors:

A lot helping professionals do some form of marriage or couple counseling, however Dr. Ronna Phifer-Ritchie has specialized in working with partners at several points in her career.  Her revolutionary approach to couples' coaching integrates personality science, couple development theory, and the deep wisdom themes of scripture, in ways that create powerful forward movement and deeply satisfying results for clients in their relational growth journeys.
When choosing a coach or counselor to support your growth work as a couple, it is important to remember that most graduate programs in those fields do not include even one complete course on couples therapy.    In contrast, Ronna started her professional life as a psychotherapist and college professor, teaching and coaching couples who were heading into full-time ministry.   She has been coaching couples into healthier partnerships, and teaching the Couple Development Model, integrating that specialty with her work in personality, for almost three decades!    Today, Ronna continues in that focused study with two of the leading couples therapists in the world,  Dr. Ellyn Bader & Dr. Peter Pearson, authors of the Couple Development Model, as a graduate of their "1 in 1,000" Master Mentorship program; as well as immersing herself in the work of other thought leaders in this exclusive circle of experts.    
Now, at the request of colleagues in the field, Ronna also trains Couples' counselors, pastors, and coaches to integrate the Bader Pearson Couple Development Model  with the Riso-Hudson Psycho-Spiritual Model of Enneagram Personality Type Development, in their work with partners. 
---
---
---
---
---
---
---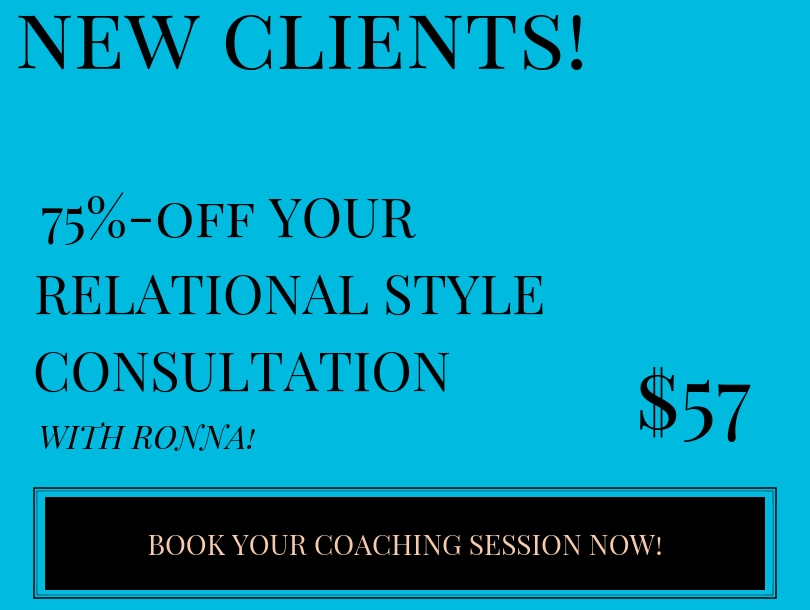 I know, whatever relational journey brought you to this moment, you are designed by God to live in healthy relationships, where you naturally thrive.   If you are truly ready to start creating that kind of interpersonal life, this 75%off 1-hour INTRODUCTORY ENNEAGRAM CONSULTATION  is a great opportunity for us to explore the ways professional relationship coaching can help you get there, and whether or not the kind of deep psychological and spiritual growth work I do with my clients is a good fit for you.