$48/Session with Membership
A

Thursday Afternoon Thrive

 Group Coaching Series
Specially Designed

For Single Women Who Want to Improve Their Dating Practices

…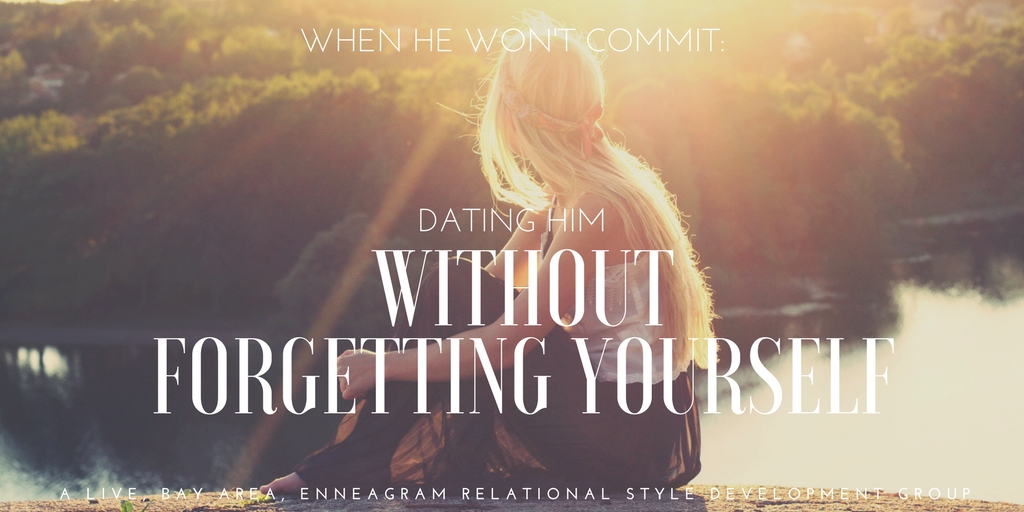 ---
DOES ANY OF THIS
SOUND FAMILIAR?  
Wondering why he's resisting commitment or marriage?
Feeling stuck in a casual relationship that is going nowhere?
Exhausted from trying to talk him out of what seem like illogical excuses?
Finding yourself dating the same commitment problem with different names, over and over again?
Confused about what healthy dating boundaries look like with commitment-avoidant men?
Or simply wanting to enjoy dating and life again, and detach from his crazy-making, hot-&-cold behavior?
If So,
You Can Enjoy Your Dating Life a Lot More than You are Right Now!
Learn to Stop Forgetting Yourself
and Date at a New Level of Relational Health!
Consider Joining Us
for Our Ongoing Conversation…..
---
WHEN HE WON'T COMMIT:

DATING HIM

WITHOUT FORGETTING YOURSELF!

$48/Session with Membership!

A Live, Weekly, Bay Area,

Enneagram Relational Style Development Group for Women

Thursdays 4pm-5:15pm, Bay Club Cupertino

Next Start – Fall 2018!

with Dr. Ronna

Silicon Valley's Relationship Coach

---

THIS EXPERIENCE

COULD BE

SUCH AN IMPORTANT

PART OF YOUR

RELATIONAL GROWTH

JOURNEY,

So…

MEMBERSHIP – $48/Session:   4 Live Group Coaching Sessions each Month!    SAVE 20% by Signing Up for a 1-year Membership!    (ONLY $48 PER SESSION for Members!)   You Can Cancel Your Monthly Membership at Any Time, NO CHARGE!

DROP-IN – $68/Session:  Drop-ins Welcome!  ($68/Session for Non-member Participants)

Not in the Bay Area?  

You Can Still Have Ronna

for You & Your Girlfriends

or Female Coworkers.

As Long as You Have

a Group of 5 or More,

You Can Order the

Zoom Video Conferencing

Version of TAT!  
---
The following two tabs change content below.
Ronna Phifer-Ritchie, PhD is a Professional Relationship Coach, and Enneagram of Personality Expert. Her Specialty is Accelerating Couples' Developmental Journeys by Integrating Personality Development Work Into the Coaching Process. Ronna is the Founder of THE RELATIONSHIP DOCTOR Coaching Service, & Co-founder of the THE RItCH JOY GROUP (HELPMORECOUPLES.COM), offering Professional Trainings for Therapists, Coaches, & Pastors, based on a Theoretically Integrated Model for using the Enneagram Personality System to Accelerate Couple Development and Break Through Stubborn Impasses in Couples Work. She is the Author of the RELATIONSHIP BUILDERS BLOG, a Technical Writer for Several Enneagram of Personality Publications and Training Programs, and a Frequently Requested Retreat Speaker and Workshop Facilitator in the Area of Personality Style Development and Relational Health.
Latest posts by Dr. Ronna Phifer-Ritchie (see all)