TOO MUCH TEXTING MAKES YOU SHALLOW IN RELATIONSHIPS!
Check out the latest research on over texting and checking social media on that cell phone:   it's making us all into jerks in the relational world.   Something about our obsession with these little electronic friends of ours (our phones) is interrupting our moral development, especially in the area of really connecting with our deepest and most meaningful values – the things we REALLY care about.    Imagine, if you will, your future self talking to you about all the important relationships you will wish you spent that time building, all the important skills you will wish you spent that time practicing, all the silent moments of clarity you will wish you had put down your phone and paid attention to!
Funny how addictions, no matter what they are, they take us away from relationship….they take us away from growth and development.   Never fails!
So great!   This is a wake-up moment.   Now you know what that every-fifteen-minute "fix" is doing to your brain.   How might you put a little cell phone detox into your everyday life, and get a large chunk of yourself back in the process?
"….the researchers asked the students to classify dozens of life goals and core values by importance. They found that participants who frequently texted or incessantly checked their social-media accounts were more concerned about superficial stuff, such as their looks and having fun, than more meaningful things, such as living honestly and being a good person who helps others."   

KIM LACHANCE SHANDROW

ENTREPRENEUR STAFF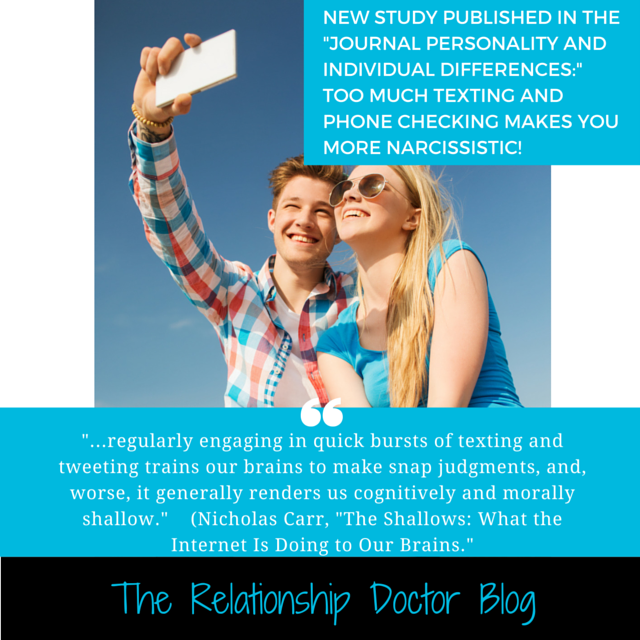 ---
---
---
---
---
---
---
---
---
---
---
---
---
---
---