_________________________________

RECIPE FOR HARMONY – 

HOW Couples Can Show Up with all Their Important Differences

& WORK AS A TEAM When Conflict Arises!

Understand how you typically approach conflict!

Recognize what is most likely to trigger conflict in your relationships!

Appreciate BOTH the types you naturally resonate with, and the types you do not naturally resonate with, during conflict!

Invite the gifts that other types are bringing to the needed conflict resolution process!  

Learn to build the missing style "leg(s)" of the conflict resolution "stool," in couple life!

Move a "conflict descent" into a problem solving session with your significant other!

 
---
---
---
---
---
---
---
How the Enneagram Harmonics, Discovered by Don Riso & Russ Hudson,
Can Help Couples Develop Stronger Conflict Resolution Skills!
WANT TO STOP ARGUING & START SOLVING PROBLEMS TOGETHER LIKE A TEAM?
Try This Exercise…
Think About the Last Troublesome Conflict You and Your Partner Had, One Where You Felt Really Stuck…..
Take out a piece of paper, and write down the answers to these questions:
WHAT did you want from the situation?
WHAT was your partner doing?
WHAT seems unreasonable or unsatisfactory about his/her behavior?
WHAT did you wish he/she would do instead?
Conflict is a very important skill to master in couple life.    As renowned relationship psychologist, Dr. John Townsend, so brilliantly pointed out, if there's no conflict in the relationship, one of you is redundant.     

But almost all couples have to work through the troublesome pattern of "gutters" that conflict rolls into when they are learning how to truly talk and solve problems together.   It's a perk of marriage and commitment that we get to work on our auto-pilot tendencies of our personalities in the inescapable heat of differing desires that yields an unending supply of stuck, stalled, and seriously crazy-making moments of conflict!

The Enneagram of Personality can be a great tool for couples here.   It helps us unpack what we tend to do in negotiations where we feel stuck, stalled, or up against a wall.   AND UNDERSTANDING WHAT WE TEND TO DO, AND HOW TO BREAK THAT PATTERN WHEN ITS UNHEALTHY, IN THESE SITUATIONS IS REALLY IMPORTANT FOR OUR PERSONAL AND PROFESSIONAL RELATIONSHIPS!

So, why do we tend to feel so trapped and left to the mercies of our defenses during conflicts with our significant others?    One problem we all have at one time or another, is that, in relationships, it's very easy to think that the goal of any particular negotiation is to convert the other person to our point of view.    Also, we're just more comfortable with our style of communication.  And the more stress we feel in the situation, the relationship, our current life, the more rigid our personality style becomes, and the more we insist on it.

But here's the biggie….
When Conflict "Descends" Into Arguing, That Process Has 3 Important Phases… 
1. Still Trying to Work it Out, Offering Our Strategy….
In this early phase of the conflict, we still have access to our problem-solving brain.   We are not in "fight or flight" yet.   But most of us are very focused on the benefits of their own favorite style of problem solving, even though there may only be a minimal amount of tension building.    The personality is directing our attention towards one third of the problem, what is called our "Harmonic Style."   We have a default strategy for working things out in situations like these, and we think, if successfully applied, it will provide the solution to the conflict. This has the potential to create an "attention error" in our intelligence system.    Our dominant Harmonic Style is only one of three points of view.   It may be POSITIVE OUTLOOK (Types Seven, Nine, Two); it may be EMOTIONAL INTENSITY (Types Four, Six, Eight); it may be COMPETENCY (Types One, Three, Five).
The important thing to keep in mind, while I am STILL in stage 1 of the conflict, is that my Harmonic Style is ONLY one leg of a three-legged stool.   In other words, the conflict process cannot stand in the face of all of my and my partner's fears and tensions, unless we support that conflict "stool" on all three Harmonic "legs."
We NEED to remember to have a positive outlook, and hold the positive vision of us getting through this as an in-tact, loving, supportive team, with members who want the best for the others.
We NEED to commit to emotional intensity being on the table, and not leaving our real feelings hiding in another room; because knowing exactly where everyone truly stands on, and with what level of personal investment in, the issue is vital to creating new perspectives and methods we can all buy into.
We NEED competency in our problem solving at all times, remembering there are facts that must be dealt with in an adult way, and that reality is our friend, and it's not changeable through magical thinking or unending blame; this is not a fantasy, this is our life together.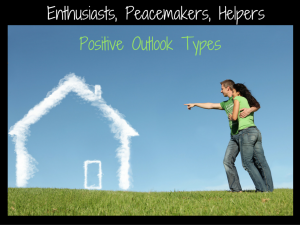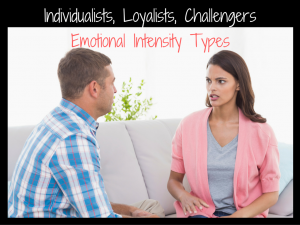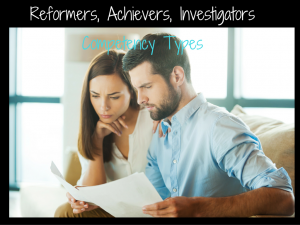 2. Starting to Assume that Others Will Meet Us in the Same Strategy…
There's a middle phase that I've noticed in couples conflicts, it's a phase that really could be re-named the "Last-Call Phase."    Here, the error we start to make is assuming (or demanding) that our partner meet us with the same conflict style that we prefer to use.    We start to ignore the specialties of the other people involved in the conflict.    We forget that we need other points of view, other "legs" for our stool.    And we begin to feel unstable, and start saying things to ourselves like "If he/she would just _________, this would all be solved!"  The attention error in our personality style is taking hold.    We are sawing off legs of the conflict stool!   But if we "catch ourselves in the act," breathe a little, maybe take a walk down the hall and back. and spend a moment thinking through the Enneagram Harmonics of the situation; we can start asking ourselves those diagnostic questions from the first part of this blog article:
What do I want from this situation?
What is my partner doing?
What seems unreasonable or unsatisfactory about his/her behavior?
What do I wish he/she would do instead?
AND ADD THIS NEW ONE:
What Harmonic "legs" might help us create a better solution to this problem?
3. We Go to Anger, Rejection, & Confusion; and Here is Where We Attack and Counter-Attack in Our Type's Style…
Yup, we all know this place of "cognitive decapitation" well.   This is where our primitive brain takes over, because our personality has moved into protection-life-saving mode, and it is dropping down the levels of health rapidly.   We attack with our Enneagram Type's favorite strategies
Ones get Judgmental, Critical, Terse, Sarcastic….
Twos get Self-Important, Overbearing, Complaining, Guilt-Inducing…
Threes get Self-promoting, Grandiose, Arrogant, Competitive…
Fours get Self-Indulgent, Decadent, Envious, Pretentious…
Fives get Provocative, Extreme, Scornful, Withdrawing….
Sixes get Authoritarian, Blaming, Cynical, Reactive…
Sevens get Self-Centered, Excessive, Impatient, Cavalier…
Eights get Intimidating, Confrontational, Pressuring, Defiant…
Nines get Resigned, Appeasing, Deflecting, Suppressing…
Don Riso and Russ Hudson discovered the Enneagram Harmonic Styles, and they noted that if you're acting out your anger in your type's style, then you are likely in this late phase of conflict.   It is not just the EMOTIONAL INTENSITY (Four, Six, Eight)  types who do this; no matter which Enneagram Harmonic you identify with the most, all of us become aggressive in some way when we drop into this late stage of conflict's descent into arguing and other troublesome patterns.
We all know that once we hit this third stage, it's really hard to use our "Last-Call" wake-up skills.   At the "cognitive decapitation" point, it's usually a full out war of styles; and the best thing to do is take your amygdala for a little vacation from the sense of impending doom; leave the "fight room" and go do a calming ritual (a walk, a bath, breathing, you name it…just go)     It's essential to know how to unhook during the argument.   However, the best approach overall is to practice waking up during the early phases of conflict descent, and practice actively valuing the other "legs" of the conflict harmonizing "stool," so we don't miss out on important solution sessions with our partner in the face of life's problems!
And here's a great way to start that practice…
---
---
---
---
---
---
---
---
---