AN ENNEAGRAM of PERSONALITY WORKSHOP
& COACHING PACKAGE
DESIGNED FOR WORK GROUPS!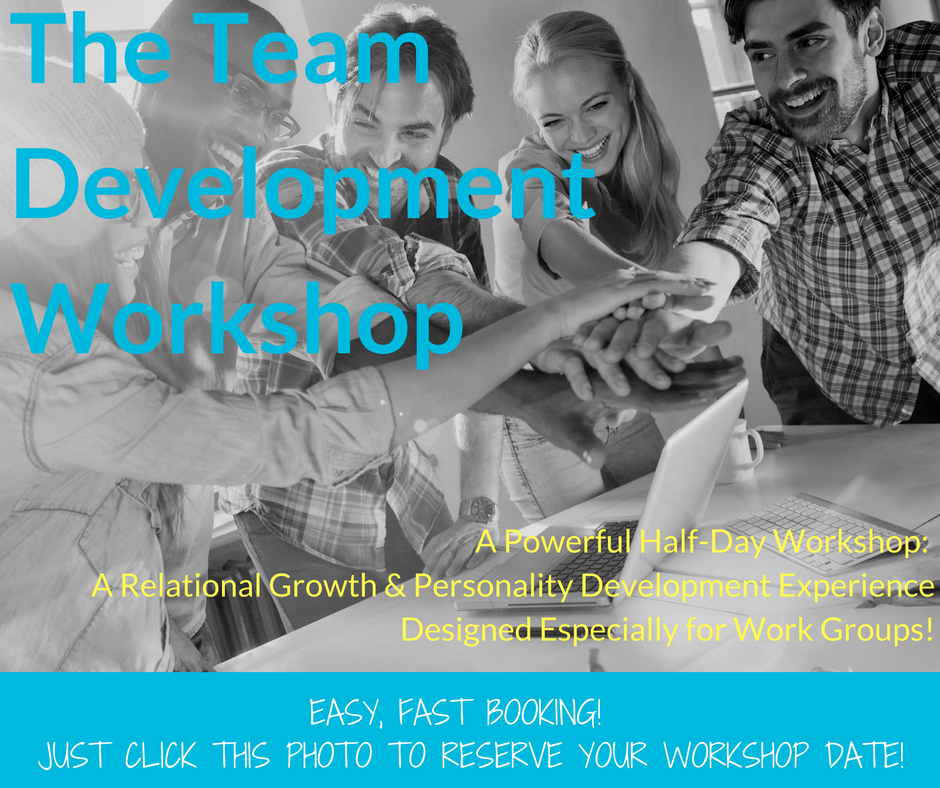 Designed to help members increase awareness and choice around their own relational styles,
and understanding and empathy regarding other team members' styles.
Team workshop specifically created to help your group optimize their "team personality"
(broaden team style strengths, minimize blind spots, and experiment with new perspectives at a team level)!
---
---
---
---
---
THE GOAL OF THIS TRAINING:
MOVE YOUR WORK TEAM INTO
MORE RELATIONAL HEALTH
IN THE NINE DOMAINS OF EFFECTIVE TEAM FUNCTIONING:
Need for Principles, Order, and Ethics
Need for Personal Caring, and Connections with others
Need for Self-Improvement and Advancement and Recognition
Need for Personal Meaning and the Ability to find Aesthetic Satisfaction
Need for Knowledge and In-Depth Exploration of Reality
Need for Belonging and to Give and Receive Group Support
Need for Variety, Freedom for Experimentation, and Change
Need for Self-Assertion, Independence of Decision-Making and Action
Need for Stability, Harmony, and Effortless Flow
---
---
---
---
---
---
---
For groups of 3 to 16 participants! 
Facilitated by Dr. Ronna Phifer-Ritchie

YOUR TEAM RELATIONAL DEVELOPMENT PACKAGE INCLUDES**:
Orientation to the Work of Personality Awareness & Development for all Participants
Individual Enneagram & MBTI Relational Style Assessment & Report for Each Team Member
Two 1-hour Individual Coaching Sessions by Phone, for Each Team Member (Required)
Personal copy for each participant of one of the following:  The Sacred Enneagram  for church and/or religious group members, OR  The Awakened Company for business team members.
Half Day (3.5 hours) On-site "Team Personality" Development Workshop facilitated by Ronna
Riso-Hudson Insight Approach Training (Psycho-Spiritual-Relational Growth Path Practices for each of the Nine Enneagram of Personality Styles, & MBTI Integration Segment) with Lecture Modules, Large Group Exercises, & Experiential Small Group Work
Enneagram Harmonics Skills for Problem Solving
Mini-Mediation Skill Building Practice Segments for Stress Management
Handout Packet & Homework
"Re-entry" &  Next Steps
RESERVE YOUR WORKSHOP DATE by clicking below:  contact Ronna & tell her about your vision for your team!
There are a limited number of workshop dates during the year!
_
**Only available in Northern California Bay Area (Unless Special Arrangements are Made).   Additional Charges for Facilitator Travel May Apply Outside of the Northern California Bay Area.