Lovin' this Healthy Trend in Wedding Gift Giving!
Consider Setting Up & Having Guests Contribute to AN EXTENDED HONEYMOON FUND,
as well as A PREMARITAL COACHING FUND
(20% the FULL PACKAGE at The Relationship Doctor, Right Now!),
Here are Gifts that are GREAT Marriage Starter Kits!!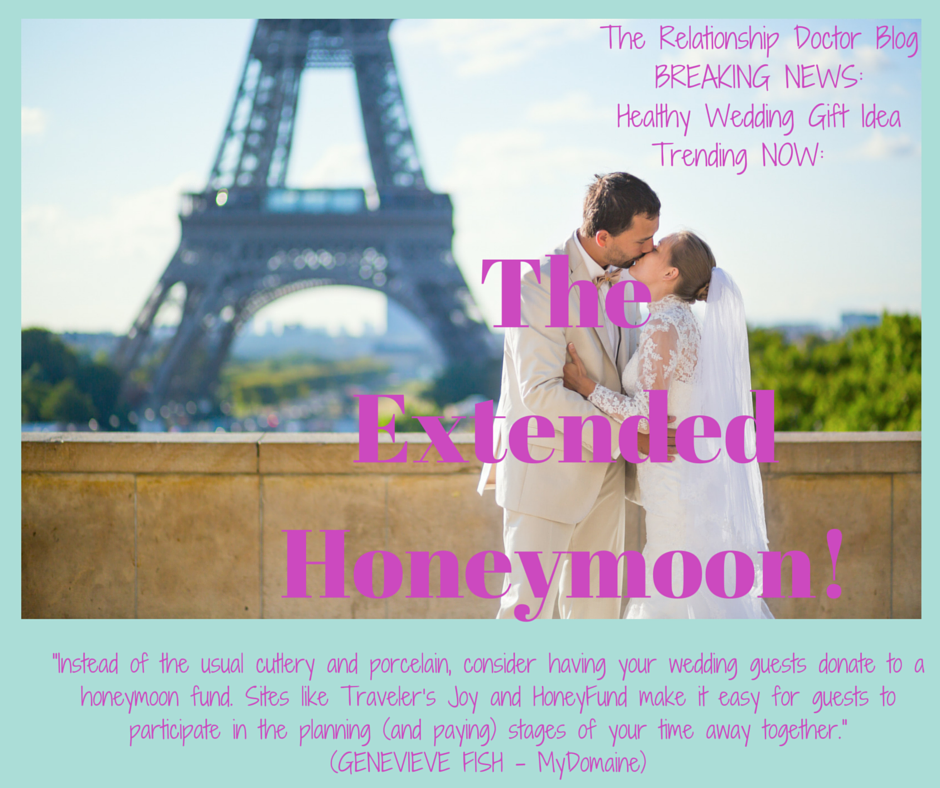 This is a great idea trending in weddings right now….THE EXTENDED HONEYMOON (Click on the image above to read the full article in MyDomaine.com).     The wedding celebration is an important gathering of the community to support the young couple's commitment to enter and stay with the couple development journey.
Two of my favorite choices for a wedding gift that shows that support are:
1) Establishing a fund or Contributing to a fund for an extended honeymoon, where they can more easily hold that relaxed ground of openness, acceptance, and curiosity that will help them through those early months of "Wow! What Have I Gotten Myself Into!"   
2) Purchasing a package or contributing to a package of premarital relationship coaching sessions, where they can build some skills and perspectives that will "vaccinate" their relationship from many of the common relationship killers in early and middle marriage.
Happy Shopping!
Ronna the Relationship Doctor