When our partner wants "space," there are two
very important things we need to understand!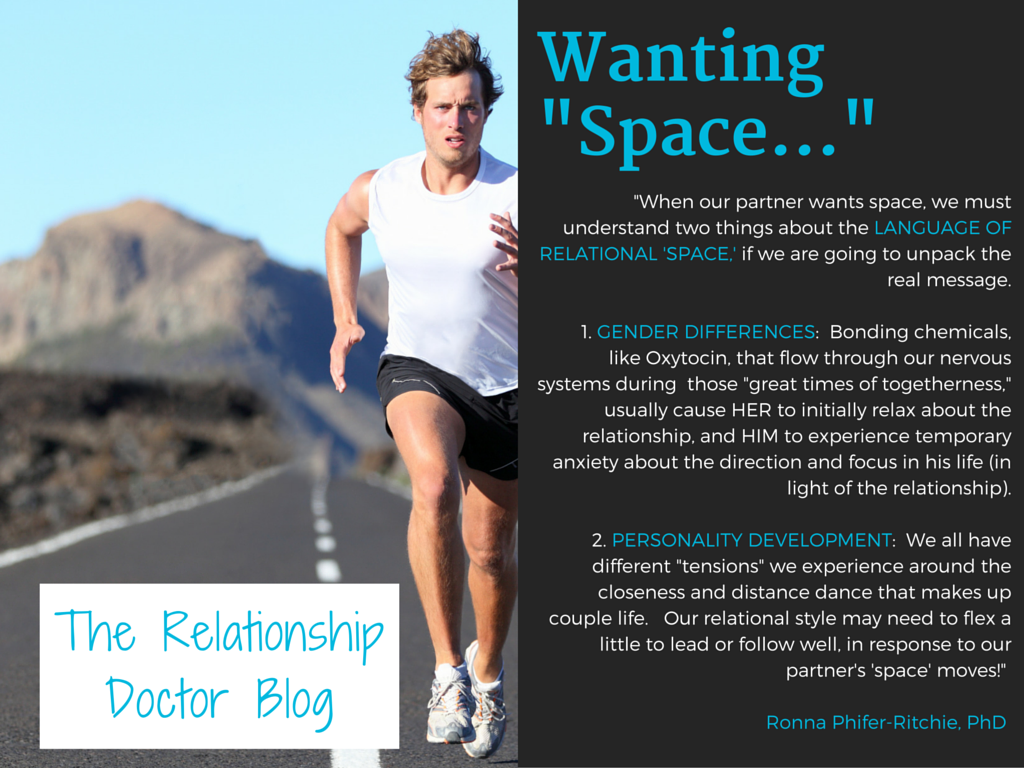 First,
THERE ARE GENDER DIFFERENCES IN THE WAY WE "NEED SPACE" IN RELATIONSHIP:
Bonding chemicals, like Oxytocin, that flow through both of our nervous systems during those "great times of togetherness," usually cause HER to initially relax about the relationship, and HIM to experience temporary anxiety about the direction and focus of his life (in light of the relationship).
Girlfriend!  If you're stressing about the fact that he is asking for space, don't.   He's either just realized how important to him you REALLY are, and he's doing the man-cave thing.     Or, and this is important to open your mind to, he's actually, to use the proverbial phrase, "just not that into you," and you really have enough data that you know that.     The test is the same – you keep living your life, and stay honest with yourself about his behavior.   Reality is always, always your best friend in the dating years!    And reality grounding starts in a life well-lived, spiritually and psychologically, that makes lots of room for others to be themselves in your presence without your automatic defenses, emotional reactivity, or security needs running the show.   That manipulation routine is not going to work!   You want to engage in "CLEAR LIVING;" it's essential, so you don't accidentally "reinforce" dishonesty and manipulation.
Dude!  If you're stressing about the fact that she is asking for space, …well, it's, quite frankly, understandable.   When she pulls away, chances are the relationship needs immediate attention.    The data indicate that most often, when women pull away significantly, it's in more of "giving up" mode, not an "exploration of myself" mode, like you might do.   The solution to any problem this pull-away might be signaling is to have a real conversation with her.   Breathe, relax any defensive posturing that says "How dare you not be happy what I'm doing for you!"   Play that what-if-she-broke-up-with-me reality movie in your head!   There you will really find your deep and true desire to be the best man you can be with her.   Out of that desire will spring your courage to investigate until you get to her truth.    Her truth is not the whole story.   But it's a part of the story you may be avoiding right now.   That avoiding routine not going to work!   You want to bring her back to the place where she feels safe and engaged.   You need her interest in the health of your relationship more than you may know.
SOME Great Thoughts & Data on Gender Differences in This Area from THE ELEPHANT JOURNAL:
"Women often pull away because there is something wrong within their relationship, whereas men will pull away just because they need to constantly adjust to the direction they are heading. Because women pull away when there is a problem, they automatically think the same must be said for men, when it is likely just the male's need for a little space.
There is scientific evidence to back up this theory, as we couple we release a hormone called Oxytocin.
Oxytocin decreases females stress levels but it lowers testosterone in males which causes them to experience higher stress levels.
Due to this imbalance, too much bonding too soon can cause a man to feel slightly uncomfortable as he constantly adjusts to his new setting. As the male withdraws, his testosterone raises and so he feels more balanced and is then likely to return happier than before.
Simply, men are more likely to need a little more space and freedom than females within their relationship.
Freedom is something that both men and women need and it is not something that we should fear.
When we allow our partners to enjoy being themselves and understand they need a safe space to do this, we have a far greater chance of a balanced, successful relationship."
THE ELEPHANT JOURNAL – "WHY MEN PULL AWAY"
Second,
THERE ARE PERSONALITY-BASED TENSIONS THAT MAY NEED TO BE RELAXED BEFORE WE CAN "DANCE" WITH OUR PARTNER'S SPACE AND DISTANCE RHYTHMS:
We all have different "tension" we experience around the closeness and distance dance that makes up couple life.   Our relational style may need to flex a little to lead or follow well, in response to our partner's "space" moves!   Good questions to ask, from Enneagram of Personality Assertive-Withdrawn-Compliant Triad (Hornavian Triads):

Am I a person who likes to move towards people? Am I most comfortable with influencing the room and assertiveness?    Am I uncomfortable with those who might need more choice, or less conflict?  (Most common for Challengers, Enthusiasts, & Achievers)
Am I a person who likes to move away from people? Am I most comfortable with conflict-avoidance and withdrawal?  Am I uncomfortable with those who might need more connection, or more energetic contact?  (Most common for Peacemakers, Investigators, & Individualists)
Am I a person who likes to move with people? Am I most comfortable with pleasing authority and compliance?  Am I uncomfortable with those who might need more distance, or "sparks?"  (Most common for Helpers, Loyalists, & Reformers)
Ready to Start Creating

THE BEST RELATIONSHIPS OF YOUR LIFE?