RELATIONSHIP
BUILDER:
Are We Doomed to Keep Dating (or Marrying)
the Same Person with Different Names?  
When Facing a Major Relationship Pattern in Your Life

 and seeking BIG shifts in that pattern, do these 4 things: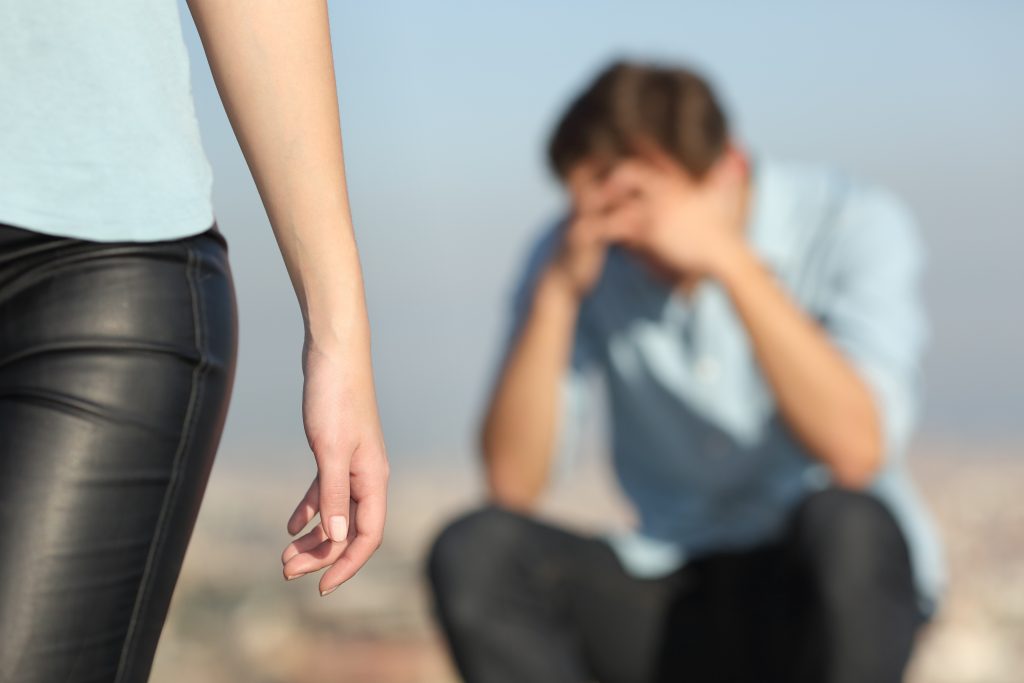 Sometimes we feel stuck in relational patterns, feeling like we're living the same script, over and over again, just with new actors playing the parts. Attachment patterns in the relational nervous system are coded in childhood, and determine a lot in terms of how healthy our personality "auto-pilot" functions as we enter adulthood, especially in our romantic relationships. Relational anxiety drives the pattern in deeper; so every time we avoid reality's feedback to keep doing the same unrewarding behaviors and making the same stress-inducing choices in our relational lives, we create more anxiety, and we keep the attachment style going. However, attachment experts site a few important choices we can make that have a deep and lasting effect on the level of anxiety driving our attachment patterns, and thus an impact on how we can shift into more secure attachment patterns.
Here are some BIG relationship pattern shifters, according to attachment experts, like Allison Abrams, Psychology Today author:
When You're Trying to Shift a Major Relationship Pattern in Your Life, make sure to do these 4 things:

1. Manage significant stressors in life well.   Get support and create structure you need – it reduces the over-all anxiety in your relational life, which is good for moving you out of anxious or avoidant attachment patterns and into more secure ones.

2. Engage in new, emotionally-correcting relational experiences, like being in a committed relationship – that can change those patterns.

3. Seek secure partners, with good attachment work in their history that grounds their relational patterns – this can be a health-bump in your way of being in relationship.

4. Support your relational life with counseling or coaching, to help you understand when and why the attachment anxiety gets triggered – a smart move, in the direction of healing.
---
---
---
THE
COUPLES'
ENNEAGRAM:
Level of Health Trumps Every Other Factor in Dating Choice!
When talking personality style, what's the "Type" that goes best with your Type?    The only answer to that question is THE HEALTHY TYPE! This is the type of individual who, regardless of Enneagram style, is self-motivated to "do the work" of his or her personality development.   In doing so, that individual is dealing directly with any attachment wounds in childhood, and preparing to be a great partner.    Here's a recap of some ways someone's Enneagram Type Level of Development (Don Riso & russ Hudson's Description Matrix of Personality Style Health) might speak to you through an online or in-person encounter:
Healthy…

Securely Attached

Individual…

THE EMOTIONALLY CORRECTIVE RELATIONSHIP

1

The Truly Liberated Dater:

 "IF I ENGAGE IN DATING AT ALL, DATING IS A VERY HIGH SPIRITUAL AND RELATIONAL PRACTICE FOR ME – BLESSING OTHERS, AND BEING FULLY OPEN TO RECEIVE THE UNIQUE BLESSING EACH OF THEM BRINGS TO MY LIFE AT THIS MOMENT.  BEING IN MY PRESENCE MAKES AWAKE PEOPLE FEEL RELAXED, ACCEPTED, FEARLESS!"   (Level of Liberation: Ego Transcended — Balance & Freedom)
2

The Very Healthy & Psychologically Capable Dater:  

"ENJOYING DATING IN ITS PURE FORM, HOLDING ITS FORM LIGHTLY HOWEVER,  AND EMBRACING THE RICH EXPERIENCE OF BRINGING WHO I AM FULLY TO THE TABLE IN EACH INTERACTION, AND INVITING THAT FROM THE OTHER AS MUCH AS POSSIBLE"  (Level of Psychological Capacity: Ego is Identified with as the basis of a Particular Mode of Being)

3

The High Social Value Dater:  

It might say…"DATING WELL & WITH MEANINGFUL PURPOSE MATTERS TO ME (AND PURPOSES THAT MATTER TO OTHERS)  – GIVING WHAT ONLY I CAN OFFER IN THIS MOMENT, AND APPRECIATING THE UNIQUE GIFTS OF THE OTHER"  (Level of Social Gift: Ego Operating in a Constructive Way, Successfully Sublimating)

Average…

Anxious or Avoidant Attached

Individual…

THE RELATIONSHIP WITH HIGH POTENTIAL & HARD WORK AHEAD

4

The

 

Pleasant,  Effective Social Role Dater: 

"I AM SOMEWHAT GOAL-ORIENTED IN MY DATING, OCCASIONALLY MISSING THE VALUE OF THE MOMENT WITH THE OTHER, BUT GENERALLY GOING FOR HEALTHY GOOD THINGS IN MY ROMANTIC LIFE AND SUPPORTING THOSE THINGS IN THE ROMANTIC LIFE OF THOSE I DATE.  IF WE ARE BOTH WORKING ON OUR DATING PRACTICES, WE COULD REALLY CREATE SOMETHING WORTH DOING HERE."   (Level of Fixation: Losing Contact with Presence and Awareness, the Beginning of "Sleep" — as Ego-Role assumed)

5

The Interpersonally Controlling Dater:   

"A MIX OF HIGH-POTENTIAL OPENINGS AND MY REALLY DIFFICULT-TO-DEAL-WITH HABITUAL BEHAVIOR UNDER STRESS, MAKES UP MY REPERTOIRE ON DATES –   YET I AM ABLE TO BE REALLY "THERE" FOR THE OTHER IN SOME KEY MOMENTS.  I NEED SOME PERSONAL WORK TO BRING MY DATING PRACTICES UP TO A HEALTHY LEVEL.  AND YOU'LL BE AWARE OF THAT VERY SOON, IF YOU DATE ME….."  (Level of Interpersonal Conflict: Ego Controlling Environment to  get its needs met — Manipulative & Defended)

6

The Defensive, Over-compensating Dater: 

"I AM SIMPLY DIFFICULT TO BE PRESENT WITH, MOST OF THE TIME, AND ON MOST DATES.   I COVER MY FEARS ABOUT THAT, AND ABOUT WHAT THAT MEANS FOR MY FUTURE, WITH AN UNATTRACTIVE PUSH FOR REALITY TO CONFORM TO WHAT I WANT, MISSING A LOT OF THE VALUE OF DATING THAT IS RIGHT IN FRONT OF ME!   I AM LIKELY TO RESIST YOUR EFFORTS TO MOVE ME INTO HEALTHY DATING PRACTICES; YOU SHOULD LOOK ELSEWHERE UNTIL I HIT BOTTOM AND REALLY CHANGE."   (Level of Overcompensation: Ego Inflation, Aggressive defense of Ego-Identity. Demanding that others/reality support the ego-agenda)

Unhealthy…

Disorganized Attached (Unattached)

Individual…

THE RELATIONSHIP THAT NEEDS TO END

7

The Violating Dater:

  "IF LISTED ON A DATING SITE, MY STORY FEELS VERY UNHEALTHY, OR THE PIECES JUST DON'T FIT TOGETHER IN A TRUE OR HUMAN WAY.  I RESIST YOUR EFFORTS TO GET FACTS ON ME OR MY RELATIONAL PAST.    MY DATING LIFE, IF YOU COULD CALL IT "DATING," IS REALLY USING, IN A KIND OF HIDDEN FORM OF SOCIOPATHY, FOR THE MOST PART.   DON'T DATE ME BEFORE I GET TO THE INTERVENTION AND HEALING I NEED SO DESPERATELY."    Level of Violation: Ego willing to violate self and others to maintain itself. Abusive, Devaluing, Desperate (Serious pathology arises)

8

The Out-of-Control, Deluded Dater:   

 "I AM BEYOND DANGEROUS.   YOU'D NEED "MONEY, GUNS, AND LAWYERS," AS THE SONG SAYS, TO SURVIVE ANY DATING CONTACT WITH ME WITHOUT BEING DAMAGED.   YES, WITH SERIOUS HELP, AND THE KIND OF PERSONALITY MIRACLES THAT ONLY GOD CAN PROVIDE, SOMEDAY I MAY BE A LITTLE MORE HEALTHY AND ABLE TO INTERACT WITH OTHERS WITHOUT HARMING THEM.  BUT, I SHOULD NOT BE AROUND THE DATING WORLD IN ANY WAY, BEFORE HUGE SHIFTS HAPPEN IN THAT AREA…AND PROBABLY NOT EVEN THEN."   (Level of Delusion and Compulsion: Ego-self out of Control and Out of Touch with Reality (Major Personality Disorders)

9

The Pathological & Destructive Dater:  

"I AM SO DETERIORATED AT THIS LEVEL, THAT I DOUBT I EVEN REACH OUT RELATIONALLY, AS THERE IS NO SENSE OF SELF TO BE IN RELATIONSHIP WITH OTHERS.    PRAY FOR ME.  DO NOT CONNECT WITH ME IN ANY KIND OF OPEN TRUSTING HUMAN WAY, UNLESS THE APPROPRIATE AUTHORITIES ARE CONTROLLING THE SITUATION, AND YOU ARE CALLED TO INTERVENE IN A PROFESSIONAL CONTEXT.   DATING IS OUTSIDE OF MY ABILITIES, THANK GOD."   ( Level of Pathological Destructiveness: Extreme Pathology or death (Psychosis))
---
---
---
SCIENCE
&
SCRIPTURE
SPEAK:
The experts have observed a deep scriptural theme here.   If you want big changes in your relational habits, make sure your most intimate circle includes healthy, loving people who KNOW HOW to do relationship well. 
Do not be misled: 'Bad company corrupts good character.'  (1 Corinthians 15:33   New International Version)
Until Next Time Builders,
You Pattern Shifters, You!

---
---
---
---
---
---
---
---
---
---
---