Relationship Builder:
AUTHENTIC
COUPLE HAPPINESS
&
THE HEDONIC TREADMILL
Couple happiness has the same problem all human happiness tends to have:  we habituate to it.    This has been referred to by researchers as the hedonic treadmill.  Without doing the work of relational growth, it's very easy to let our amazing partner and valuable connection fade into life's wallpaper of normal expectations.   That is, all those gifts from God become a kind of happiness baseline that we just grow to expect every day.   It doesn't give us the happiness jolt that it used to give us.   And we start looking for that jolt somewhere else.   So we add a new career, a new social group, and the same thing happens with each new shiny object we grab at…..it becomes part of our life's wallpaper, we don't even notice it after a while.

Our Inner Individualist has some important perspective on this topic of couple life.     This is the part of us that understands the role of authenticity in creating REAL happiness.    Most research done on the hedonic treadmill reveals this Four-ish piece of wisdom:   the real happiness in our lives comes from paying attention to the little things that are full of reality.   Fours teach us that it is important to look at the entire landscape of reality, to find the beauty in all of it, even the hard parts we've traversed together.  (Check out this amazing article about the Japanese concept of wabi-sabi, valuing those repaired cracks in our lives, relational and otherwise!)
These are the things about my relationship with my partner (no matter how small or insignificant those things may seem to the observing world) that tell me who I really am, and what I really care about.    It's an awakeness issue.   I stay awake for our weekly Saturday morning coffee and reading-the-New-York-Times appointment, our occasional picnics at sunset, the bittersweet absence of the sound of her laughter when she's out of town, the undefinable smell of him coming through the door after work, the sight of her bare back when we're in bed, the things we both like to laugh about, the things we'll never have in common and the funny stories those mismatched fantasies have created…..the list is as long and eternal as love itself.
---
The Couples' Enneagram:
WHAT THE
NICE-GUYS-FINISH-LAST 

MYTH
MIGHT REVEAL ABOUT
HOW HAPPY WE REALLY ARE
WITH OUR MATE…
So how do we stay awake and immersed in the power of reality, in our life with our partner?   Well, all those Nice Guys who used to be thought of in the dating world as finishing last, showed us something about appreciation in romantic relationships recently.   There's some new research from Spielmann and MacDonald (2016)  that indicates CONTRAST might be part of what keeps us in touch with reality.   (Or we could say the reverse, that reality might keepimportant CONTRAST in our faces!)
When does the nice guy win? So, when does a nice, but maybe not-so-attractive, person best have a shot at garnering women's romantic interest? The evidence points to a fascinating subjectivity in women's judgments: women were much more interested in the responsive (i.e.., nice), unattractive target when they have previously viewed an unresponsive (i.e., not so nice) target (Spielmann & MacDonald, 2016). This target could have been unattractive or attractive: in either case, the responsive and unattractive target was preferred.

These findings underscore the fascinating way context affects social judgements. When you're scrolling through potential partners, the order in which you study their different attributes and see their different physical qualities makes a difference…

Contrast effects seem to play a fairly big role in the very first impressions that then translate to future interaction, but scholars have yet to examine how they could play out later, once a relationship is off the ground. Perhaps comparing to other couples, or contrasting with other ex-partners, has a role in relationship maintenance.
In Enneagram
wake-up-call language,
we might think of this
contrast factor in happiness
as a
widening of our
personality's
habit of attention.
When I'm feeling dissatisfied with my marriage or partner, what exactly am I focusing on and why?    Do I need to bring in the bigger perspective?    Something beyond where my personality type is stuck.   Here are some examples: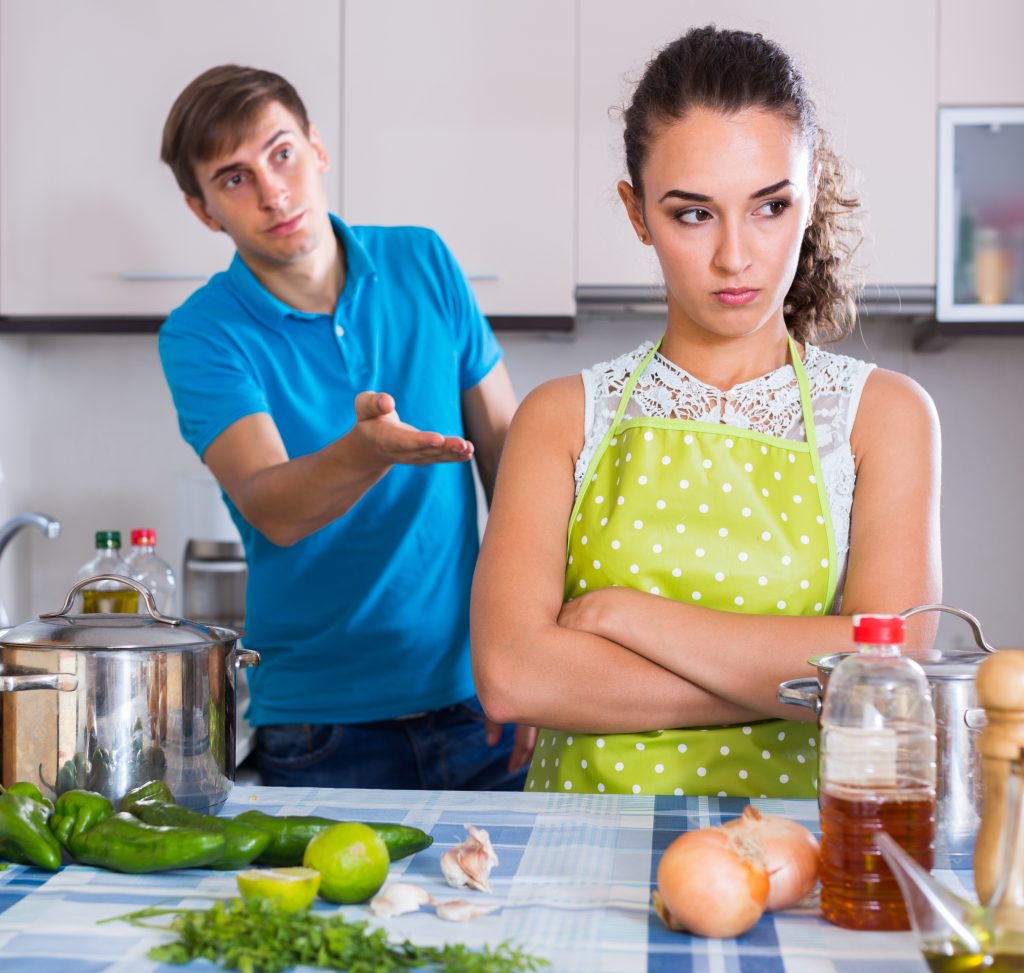 ONE:   Do I need to widen my focus beyond my personal expectations of our life as a couple?
TWO:  Do I need to widen my focus beyond  my hyper-attention on how much someone else is demonstrating that they love me in our life as a couple?
THREE:  Do I need to widen my focus beyond the constant comparisons with which I am concerning myself, in our life as a couple?
FOUR:  Do I need to widen my focus beyond my self-absorbed definitions of depth in our life as a couple?
FIVE:  Do I need to widen my focus beyond insisting that every experience in our life as a couple be run through my demanding cognitive filters to determine its value?
SIX:  Do I need to widen my focus beyond ensuring a risk-free environment for our life as a couple?
SEVEN:  Do I need to widen my focus beyond making sure I'm never uncomfortable in our life as a couple?
EIGHT:  Do I need to widen my focus beyond my vision of what needs to be moved along or managed next in our life is as a couple?
NINE:  Do I need to widen my focus beyond my avoidance of conflict, as a path to my version of happiness, in our life as a couple?
---
Scripture
&
Science
Speak on
AUTHENTIC HAPPINESS
IN COUPLE LIFE:
Did you know that many spiritual masters

teach their students about happiness

using

THIS METAPHOR

on distant stars in the sky?

Speaking of contrast, spiritual masters often teach their students about authentic happiness using this metaphor regarding viewing distant stars against the dark night sky!

One of my teachers once told me to look up in the sky at night and pay attention to this important metaphor for happiness:   There are stars that are far away, very important, very beautiful, but can only be seen if you DO NOT FOCUS ON SEEING THE STAR.   Why?   Because those stars are dim to the human eye, and the contrast is low against the dark sky.   The ocular neurons called rods concentrated in the outer part of the human eye pick up contrast better than the cone neurons concentrated in the center of the human eye.    If you look just off to the side of one of those distant stars, off into space, the star will reveal itself.

Happiness is like this.   It cannot be chased directly….if it is it just becomes a bright shiny object that goes the way of the hedonic treadmill.    You have to look beyond happiness, to the whole reality surrounding it, in order to find it!

Happiness is a side effect of aiming your life in the right direction, a side-effect of looking at truth when it shows up, a side-effect of determining to be a seeker of God and HIS version of reality.

Take delight in the LORD, and he will give you the desires of your heart.  (Psalm 37:4,  NIV)
---
---
---
The following two tabs change content below.
Ronna Phifer-Ritchie, PhD is a Professional Relationship Coach, and Enneagram of Personality Expert. Her Specialty is Accelerating Couples' Developmental Journeys by Integrating Personality Development Work Into the Coaching Process. Ronna is the Founder of THE RELATIONSHIP DOCTOR Coaching Service, & Co-founder of the THE RItCH JOY GROUP (HELPMORECOUPLES.COM), offering Professional Trainings for Therapists, Coaches, & Pastors, based on a Theoretically Integrated Model for using the Enneagram Personality System to Accelerate Couple Development and Break Through Stubborn Impasses in Couples Work. She is the Author of the RELATIONSHIP BUILDERS BLOG, a Technical Writer for Several Enneagram of Personality Publications and Training Programs, and a Frequently Requested Retreat Speaker and Workshop Facilitator in the Area of Personality Style Development and Relational Health.
Latest posts by Dr. Ronna Phifer-Ritchie (see all)